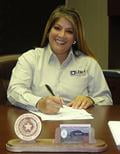 Chief Teresa Ramon,

IMMEDIATE PAST PRESIDENT

Judson ISD Police Dept.
Chief Ramon was named the First Female Police Chief for Judson Independent School District on November 22, 2010 (Under the direction of Dr. Willis Mackey, Superintendent of Judson ISD). She has 18 years of law enforcement experience including Judson ISD, Northside Independent School District, San Antonio Police 911 Dispatching Services Department, and Alamo College Police Department.
On July 19, 2013, she was elected as 3rd Vice President of the Texas School District Police Chief Association and In July of 2011 was appointed Region 1 Director. She is also a member of the Texas Municipal Police Association and the Alamo Area Council of Government Police Chief's Association. Aside from providing a safe and secure environment for the students, staff, and citizens of the Judson ISD, Chief Ramon gives back to her community through her local service. In 2012 she received the Yellow Rose of Texas Award from Governor Rick Perry and the Outstanding Woman Role Model Award from Image of San Antonio, for her exemplary leadership and love for her community.
Chief Ramon continues to work on her education and attends training through The Bill Blackwood Law Enforcement Management Institution of Texas, Juvenile law certifications through the Texas Schools Safety Center and the Texas Commission of Law Enforcement (TCOLE).
Chief Ramon will continue to strive for excellence to coincide with the Judson ISD motto of "Producing Excellence" as well the motto of the Judson ISD Police Department "Protecting Our Future".more...