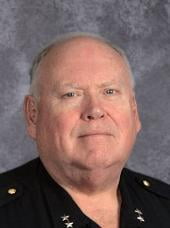 Jacksonville ISD Police Department
Chief Bill Avera was born in San Antonio, but has called East Texas home for most of his life. He is a graduate of Jacksonville (TX) high school and holds degrees from Lon Morris College, Sam Houston State University, and Texas A&M University - Commerce.
His law enforcement career spans more than 4 decades including service to the citizens of Jacksonville, Brownfield and Cockrell Hill. as Chief of Police. Additionally, he served as an Assistant Chief of Police for Dallas ISD for 12 ½ years, helping to launch that Department. In August 2016, Avera was named Chief of Police and Emergency Manager for Jacksonville ISD, his home district. Chief Avera holds the TCOLE Master Peace Officer, Master Telecommunicator, School Based Law Enforcement, Crime Prevention Inspector, Mental Health Officer, and Instructor certificates. Avera has served on several committees charged with developing curriculum for Texas SBLE and regularly presents to groups on matters of school safety. On July 6, 2021, Governor Greg Abbott appointed Chief Avera to the Board of Directors of the Texas School Safety Center. He is a member of the Jacksonville United Methodist Church Fellowship, the Jacksonville Rotary Club, Cherokee County Child & Family Service Board, Lakeview Methodist Assembly Board, and numerous professional organizations. In 2013, he was presented a Law Enforcement Lifetime Achievement Award. by the TXSSC. He is married to Heather who teaches high school math. The couple have two adult children. Chief Avera was elected 1st Vice President in 2021 and President in 2023.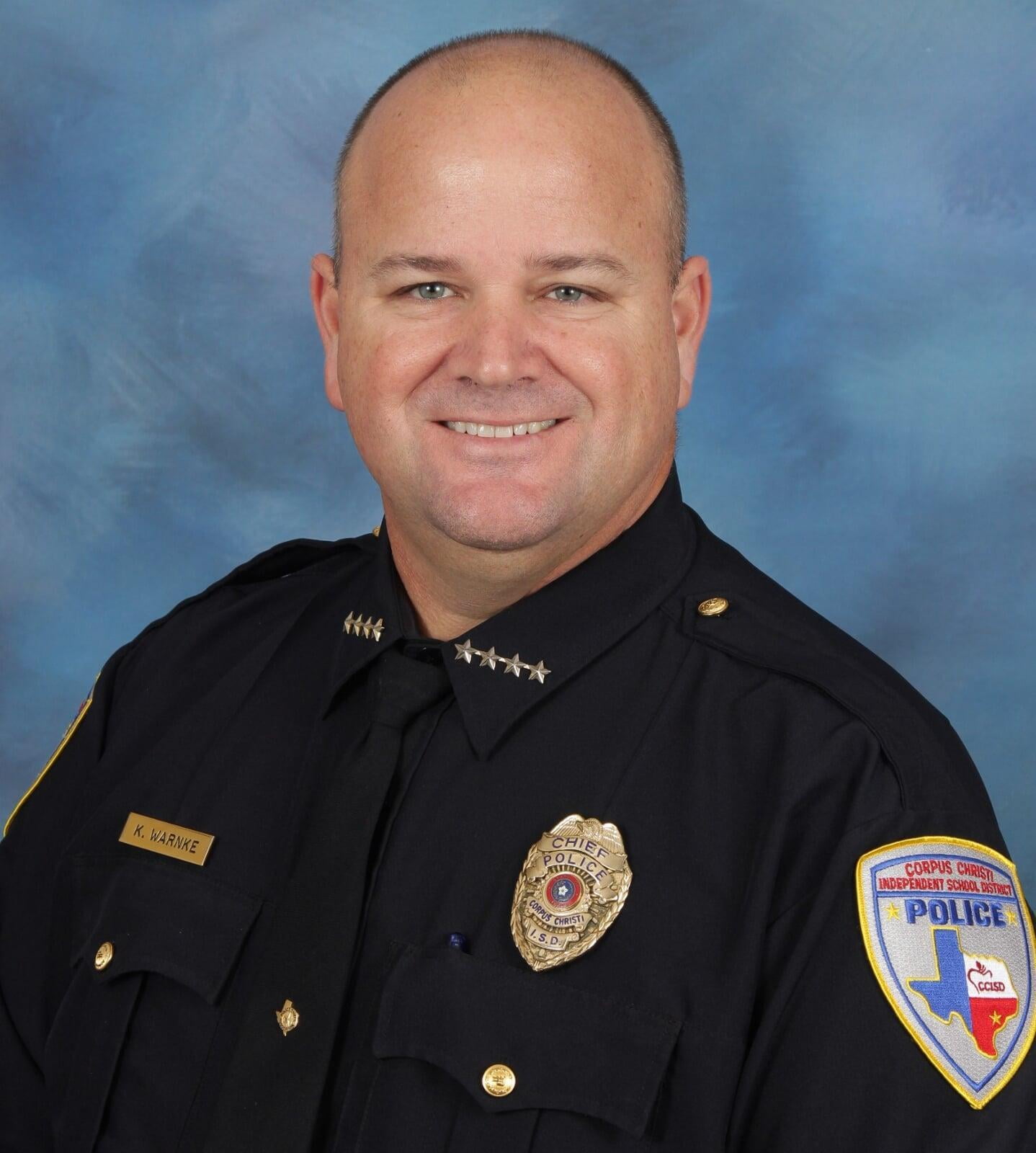 ​​Chief Kirby Warnke
1st Vice President
Corpus Christi ISD Police Department
Phone: 361-878-2851 Email: kirby.warnke@ccisd.us

Kirby is a graduate of A.C. Jones High School in Beeville, Texas. He holds the Bachelor of Science degree in Criminal Justice as well as the Master of Science in Occupational Training and Development from Texas A&M University - Corpus Christi. Chief Warnke began his career in law enforcement in 1991 with the Nueces County Sheriff's Department where he earned the rank of Sergeant before joining the CCISD Police Department during the 1997-98 school year. He served in every capacity with the CCISD Police Department before being named Chief of Police in July 2010. Warnke is a TCOLE Master Peace Officer as well as a certified instructor. He also holds the School Based Law Enforcement certification. The Chief serves in various capacities on several boards, both locally and statewide. He was appointed 2nd VP in 2022 and 1st VP in 2023.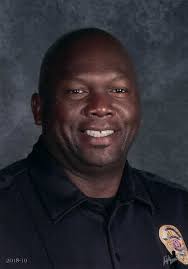 Chief Charles McDuffie
​2nd Vice President
​Atlanta ISD Police Department
Phone: 903.796.4194 Email: cmcduffie@atlisd.net

Chief McDuffie was born in Texarkana, Texas where he attended public schools and graduated from Texas Senior High School in 1985. Following his graduation from High School, he attended Northwestern State University, Chief McDuffie Graduated from East Texas Police Academy in 2005.

He began his career in law enforcement in 2005, serving as a Police Officer until 2010. He then joined the Texarkana Community College Police Department followed by the Liberty Eylau ISD Police Department. In 2017, Chief McDuffie joined the Atlanta ISD Police Department assisting them in establishing an ISD Police department and presently serving that community as Chief of Police . During his tenure, he also served as a Varsity as girls Track Coach and mentor.  He currently holds TCOLE certifications as a Mental Health Peace Officer, School Based Law Enforcement Officer, Homeland certified instructor as well as a basic physical defense instructor through RAD. Chief McDuffie is a member of TSDPCA, TPCA, Bowie County Child Welfare and volunteers annually as coach with NFL players football camp. Chief McDuffie was appointed to 3rd VP in 2022 and 2nd VP in 2023.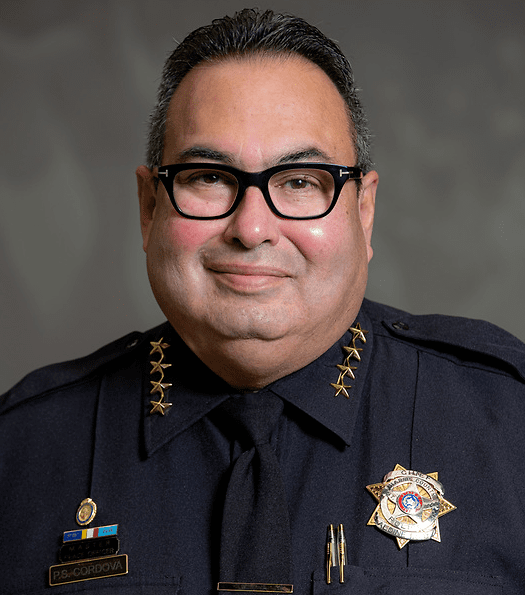 Chief Paul Cordova
​3rdVice President
​Aldine ISD Police Department
Phone: 281-442-4923 Email: pscordova@aldineisd.org

Chief Paul Córdova began his law enforcement career in 1982 at the Harris County Sheriff's Office. While at the Sheriff's Office, Córdova served in every civil service rank from Deputy to Senior Captain. Córdova fulfilled numerous assignments, including patrol, investigations, courtroom security, emergency management and homeland security. While in the Homeland Security Bureau, Córdova led the first Harris County SWAT Team, Hostage Negotiation Team, Marine Unit, Aviation Unit and Emergency Management. Córdova honorably retired from the HCSO in 2014 and accepted a position as a Police Captain with the Rice University Police Department. While at the RUPD, Córdova oversaw all areas of the department as second in command. In 2017, Córdova joined the Houston Independent School District as the Assistant Chief of Police, later becoming the Interim Chief of Police and Chief of Police within his first year. As the head of the largest public-school district police department in Texas, Córdova supervised 215 officers and was responsible for the safety and security of more than 209,000 students, 29,000 employees and 280 campuses. Córdova joined the Aldine ISD Police Department in May 2020 as Chief of Police. He holds a Bachelor of Science and a Master of Science degree in Criminal Justice from Sam Houston State University. Córdova is also a graduate of the FBI National Academy, LEMIT Leadership Command College, FBI LEEDA and FBI LEEDS. He was elected 4th VP in 2022 and 3rd VP in 2023.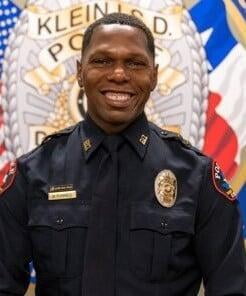 ​Chief Marlon Runnels

4th Vice President

​Klein ISD Police Department
Phone: 832-249-4275 Email: mrunnels1@kleinisd.net


Chief Runnels began his law enforcement career in 2001 as a detention officer with the Harris County Sheriffs Dept. Since that time he has worked for multiple police agencies throughout the greater Houston area. He first entered school based policing when he joined the Klein ISD Police Department in 2008. While in Klein, he worked on campus and patrol assignments as an officer as well as a Sergeant. In 2017 Chief Runnels was given the opportunity to lead the Montgomery ISD Police Department. During his time in MISD the police department underwent a cultural change where officers focused on efficient delivery of police services to the 9000 plus students via increased training and relational based practices. In 2020, Runnels returned to Klein ISD in the role of Assistant Chief and in 2022 he was promoted to Chief of Police of Klein ISD, the 16th largest district in the State of Texas. Chief Runnels currently holds a Bachelors and Masters Degrees in Administration of Justice were from Texas Southern University. He also holds numerous certification such as Master Peace Officer, Police Instructor, ALERRT Instructor, SBLE Instructor, FBINAA Command College graduate, and a FBI-LEEDA Trilogy recipient. Chief Runnel's professional associations include Texas Municipal Police Association, Houston Area Chiefs Association, Leadership North Houston. He was elected 4th VP of the Texas School District Chiefs Association in 2023.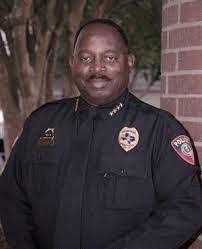 Chief Solomon Cook
​Immediate Past President
Humble ISD Police Department
Phone: 281-641-7902 Email: solomom.cook@humblek12.tx.us

Chief Solomon Cook began his law enforcement career in 1976. For the past forty-one years, He has worked for municipalities, county and state agencies. In 1997 Chief Cook joined the Humble ISD Police Department as Captain. He became Chief in 2004 with a staff 23 (16 peace officer) and in 2017 he has a staff of 82 (62 peace officers). Chief Cook has earned a Bachelor's Degree of Science in Criminal Justice from Southwest University, a graduate of the FBI Command College and a FBI - LEEDA Trilogy Award recipient. Chief Cook's certifications and licenses include a Master Peace Officer Certification, Police Instructor, Crime Prevention Instructor, Firearms Instructor, Defensive Tactics Instructor, ALERRT Instructor and Arson Investigations Certification. Chief Cook is a member of the Lone Star College Law Enforcement Academy Advisory Board. In 2015, Chief Cook was appointed by TCOLE to be chairperson for the HB 2684 committee, which created the foundation for the course curriculum for the School Based Law Enforcement Training. Chief Cook is a past president of the Houston Area Police Chiefs Association (HAPCA) and currently serves as the Houston Area Representative to the Texas Police Chiefs Association. Chief Cook had served as the Region 2 Director for the Texas School District Police Chiefs' Association. In June of 2021 Chief Cook was elected President. In 2023 he became the Immediate Past President.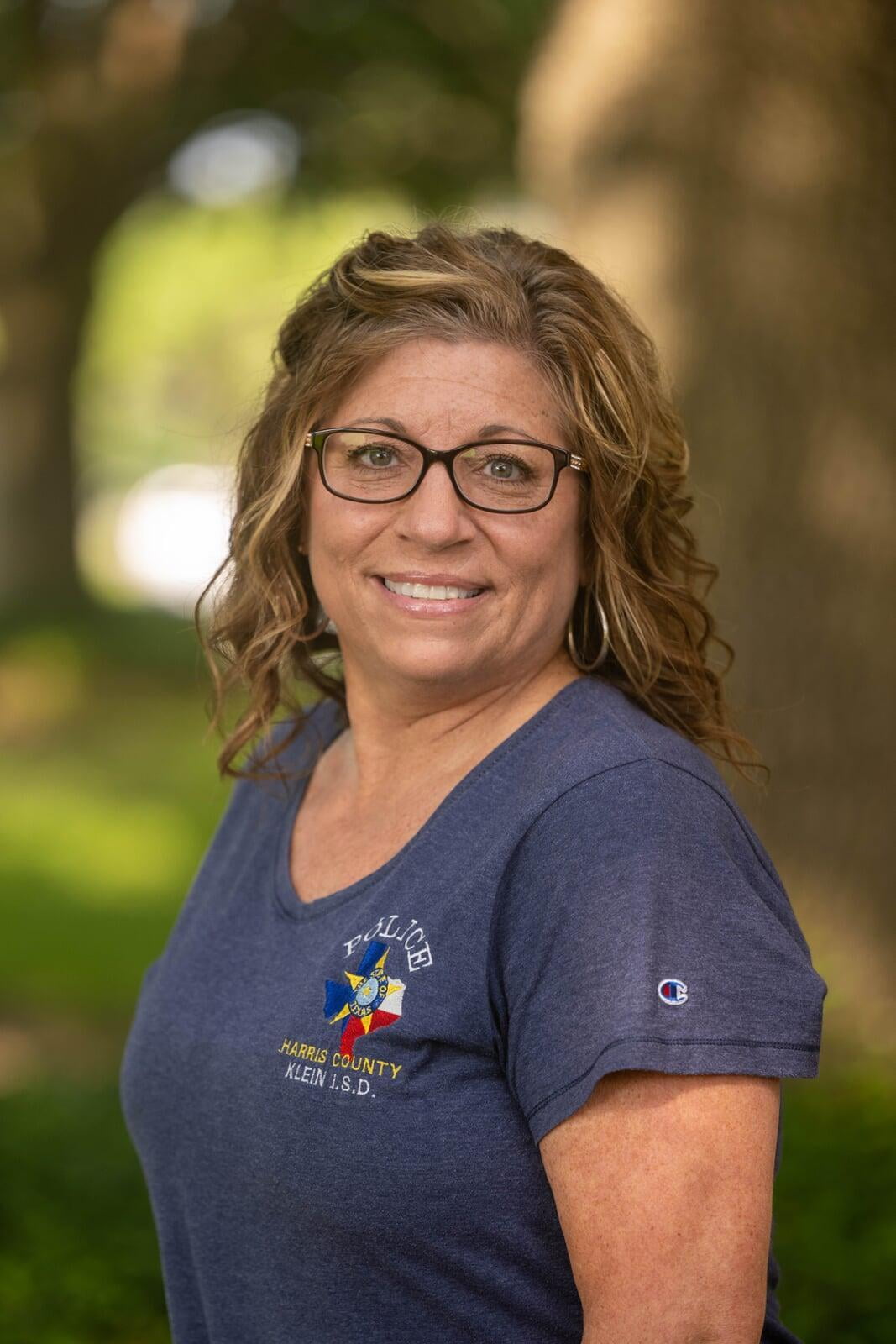 Deborah Bonola

​

Secretary | Conference Coordinator

​

Klein ISD Police Department